Add a Bathroom in Lexington, Daleville, Moneta, Rocky Mount, Boones Mill & Surrounding Areas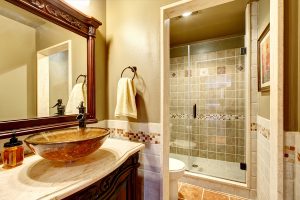 Are you considering a major home addition or renovation project? Regardless of what you may have heard from popular home improvement shows and how-to websites, you should always consult with and hire a professional contractor to oversee your home project. Whether you're looking to add a bathroom to your finished basement or are considering a complete home renovation to update the look of your home, you're in great hands with our team of experienced professionals at F&S Building Innovations.
As with all plumbing projects, the average homeowner should never add a bathroom on their own without first consulting a contractor. Ideally, a professional plumbing contractor would be hired to complete the intricate plumbing work. Although you cannot visibly see plumping, there's a great deal of planning, measurements and skills involved in any type of bathroom or kitchen addition and repair.
When working with a professional contractor to add a bathroom to your home, you'll have guidance in selecting hardware, countertops, cabinetry and more. You'll also have full reign on the style of the added bathroom and can choose from many types, such as:
Master bathroom
Efficient full bathroom
Three-quarter bathroom
Powder room
And more
Whether you choose to add a full bath or simple powder room, your home's comfort and value will increase when you add another bathroom.
No matter what your construction service needs may be, F&S Building Innovation has something to suit your home addition, renovation or new build needs. Whether you'd like to add a bathroom to your current home's basement, extend your patio to increase outdoor living space or embark on a complete home renovation, you can count on the Class A contractors at F&S Building Innovations to expertly handle your home improvement project from the initial consultation to the final walk through. We've worked with residents of Lexington, Daleville, Moneta, Rocky Mount, Boones Mill and the surrounding areas to bring their custom dream home to life. Ready to begin a home project of your own? Contact us today to get started!