Backyard Decks for Christiansburg, Cave Spring, Smith Mountain Lake & Beyond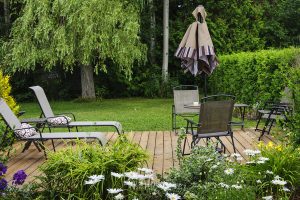 Considering the addition or renovation of a patio deck for your home or investment property? As with most construction projects, backyard decks require advance planning for a successful build or renovation. Let the expert building contractors at F&S Building Innovations take care of the planning, design and operational details for your outdoor project.
Whether you're envisioning a screened-in porch, deck remodel or brand new deck build, our team of general contractors will work with you to secure the necessary permits, high-quality materials and subcontractors to get the job done on time and within your set budget. Backyard decks offer homeowners and real estate investors a great deal of customization in terms of style and layout, and depending on the terrain of the property, a deck could be as spacious or efficient as desired.
Let our building contractors help you marry form and function with custom options such as:
Decking colors and finishes
Decorative and safety railing solutions
Outdoor lighting fixtures
Screen, plexiglass or other custom enclosures
A custom backyard deck offers homeowners or property investors an opportunity to add personal style to their outdoor living area and enhances the total value of their home. The newly-added square footage of backyard decks provides increased room for leisure, entertainment and play that you and your family can enjoy for years to come. When you're ready to sell your family or investment home, this outdoor living area becomes the perfect opportunity to showcase the property's beautiful views, amenities and style.
Let the building contractors at F&S Building Innovations handle your next home improvement project. With over 40 years of experience in constructing and renovating backyard decks for those in Christiansburg, Cave Spring, Smith Mountain Lake and beyond, we can guarantee exceptional work done right. Contact us today to schedule your free consultation with one of our general contractors.