Bathroom Remodels in Bedford, Lexington, Lynchburg, Roanoke, Rocky Mount & Surrounding Areas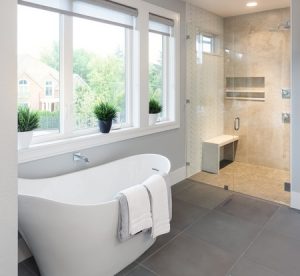 Researching bathroom remodels can be enjoyable until it is time to decide on the right contractor for the project. It can be intimidating to trust a company to take on responsibility for a costly remodel in your home. No matter how large or small your project may be, F & S Building Innovations has the team of bathroom contractors who have the experience required to execute all bathroom remodels. We understand the importance of updating your home and the reflection it has in your home's value. We hold ourselves to the highest standards on every project to ensure your satisfaction.
We have worked extensively to become Class A contractors. As Class A bathroom contractors, we are qualified to see our clients' remodels through from beginning stages of the design process to the final walk through. You will get to know us quickly and see our transparent honesty and driven determination from beginning to end.
When we begin working on remodels, we take in the following considerations and more:
The functionality of the space. What will make this room the most efficient and accessible for the people living there? We aim to implement as many as those aspects as possible.
Timeless cosmetics. Bathroom remodels allow people to add a completely different feel to their home. We will work to design a remodel that not only benefits you, but is something you will love for years to come.
Your style is our style. We like to say that our only limitations are what you dream up. We strive to understand your vision and leave every project with more satisfied homeowners.
If you are looking for a qualified and professional group of bathroom contractors who specialize in bathroom remodels in Bedford, Lexington, Lynchburg, Roanoke, Rocky Mount and the surrounding areas, look no further than F & S Building Innovations. Contact us today to learn more about how we can make your vision for your bathroom a reality!