Building a Screened in Porch in Daleville, Moneta, Rocky Mount, Boones Mill, Blue Ridge & Neighboring Regions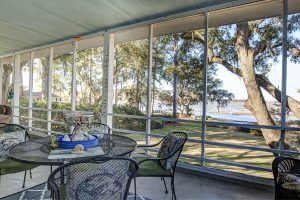 If you're considering building a screened in porch, you can look forward to a smooth building process as our professional home construction contractors and highly-skilled subcontractors handle each and every aspect of your home improvement project. With over 30 years of industry experience, F&S Building Innovations has helped homeowners complete their dream outdoor living space, home remodel and new build projects within their budget and timeline.
Nothing adds charm to a home as effectively as an enclosed patio or porch. Whether you're renovating an existing porch or seeking to build a new outdoor living space to your home, our team of contractors can make your vision come to life in a timely fashion.
No matter what your needs are for building a screened in porch or patio, our team of construction contractors and subcontractors are equipped to make your dreams a reality. From high-quality, weather-resistant decking to luxurious spiral staircases, your options for outfitting your outdoor living area are truly limitless. One of the essential decisions you'll need to make is the type of decking material that'll be used for your porch. Some of your many decking options for a new porch or total decking replacement include:
Brick
Stone
Wood
Composite
Concrete
For those renovating an existing porch but not replacing the original decking, our home construction contractors can spruce up damaged or weathered decking using professional paint, stain and sealing treatments.
With the exception of construction planning, our turnkey construction solutions at F&S Building Innovations means that you'll hardly notice our team at work. Our commitment to customer satisfaction and service means that our team will never create unnecessary clutter during the construction phase.
With nearly four decades of experience serving those in Daleville, Moneta, Rocky Mount, Boones Mill Blue Ridge and the neighboring regions, it's not a surprise that we come highly-recommended and highly-regarded as the area's most trusted home contractor specializing in building a screened in porch. Contact us today to learn more about our indoor and outdoor home construction and renovation capabilities.