Building a Deck in Bedford, Salem, Blue Ridge, Christiansburg, Lexington & Surrounding Cities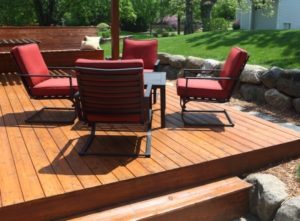 Building a deck is a much more complex task than it initially appears to be. Proper deck installation is best handled by the professionals, and there are no better deck builders in the southeastern Virginia region than the Class A contractor team from F&S Building Innovations.
F&S Building Innovations is known for providing the highest quality decks that can stand the test of time. Our decks are well-designed, functional, safe and durable, and when you decide you want to start building a deck, we can help you acquire the necessary permits, select the ideal decking material and begin construction quickly and efficiently.
Our construction team is highly skilled and experienced and will work to complete your deck installation on time – every time. At F&S Building Innovations, our motto is "Build Smart. Build Right.", and our mission with decks remains the same. We strive to provide the highest quality decks and other outdoor spaces to families and professionals, while providing a safe working environment for you, your loved ones and our personnel. Your satisfaction is our #1 priority, and our ultimate goal is to provide you with modern, well-designed, and functional outdoor spaces to enjoy with you and your family and friends for years to come.
In addition to building a deck of your dreams, we can also remodel and renovate nearly any space on your property. Additional services include:
Kitchen Renovations
Garages
Patios/Porches
and More!
If you own a home in Bedford, Salem, Blue Ridge, Christiansburg, Lexington or the surrounding cities and are interested in building a deck or looking for a company that specializes in deck installation, contact F&S Building Innovations to schedule a complimentary consultation today! We provide our customers with superior craftsmanship, unbeatable attention to detail, personal service and support, and our team looks forward to helping you create the outdoor space you've always envisioned.