Complete Remodel for Roanoke, Salem, Lynchburg, Bedford, Lexington, Christiansburg & Surrounding Areas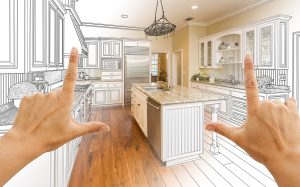 When embarking on a complete remodel for your home, it's essential to consult a professional contractor company before any construction work begins. For starters, an experienced contractor will help you plan your remodel for the most efficient and strategic project possible. Additionally, investing in a licensed contractor will ensure that only the most skilled craftsmen are working on your custom remodel. Regardless of whether you are remodeling house areas or the entire home, you can count on our knowledgeable team at F&S Building Innovations to expertly deliver custom luxury remodels on time, within budget and with minimal intrusion to your day-to-day life.
There are several options a homeowner can consider when planning a complete remodel with one of our contractors. In the kitchen area, for example, our team will guide you through important decisions on easy-to-overlook details such as lighting, hardware, cabinetry, countertops and more. With luxury upgrades such as new windows and skylights, having a professional contractor by your side when remodeling house areas like a kitchen or bathroom allows homeowners to think outside the box during their complete remodel project.
Our experienced team has worked on a vast portfolio of complete remodel projects that include major renovations and custom updates such as:
Regardless of what living areas need remodeling, house updates can be customized to suit your household's unique needs. Lacking space? A contractor will optimize your kitchen, bathroom or basement space to minimize unnecessary expenses and maximize your remodel efforts. Our team at F&S Building Innovations will help you create the space of your dreams without ever losing sight of your financial reality.
No matter what your household's aesthetic, functional or spatial needs may be, you can trust our team of experienced, licensed professionals to deliver high-quality work on time and within budget. We've helped hundreds of homeowners throughout Roanoke, Salem, Lynchburg, Bedford, Lexington, Christiansburg and the surrounding areas to transform their lackluster living spaces into the home of their dreams for over 30 years. Contact us today to begin your complete remodel project for your kitchen, bathroom, basement or whole house.