Composite Deck Builder in Lynchburg, Lexington, Salem, Vinton & Nearby Cities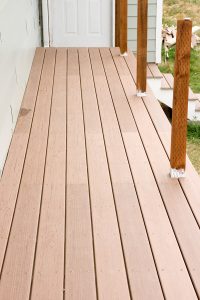 What is a composite deck builder? Simply put, it is a company that builds durable decks and porches with composite decking.
Composite decking boards are made up of plastic and wood. The wood particles can be anything from wood chips, sawdust or wood fiber pieces. The plastic components can be either recycled or virgin plastic materials. In short, this material is beautiful, long-lasting and the perfect material to build an outstanding deck for your home. F&S Building Innovations is the premier composite deck builder and porch builder in your area.
F&S Building Innovations are quality craftsmen and experts in all types of remodeling and construction, from kitchen to sunrooms to stately porches. Some of our services include:
Room additions
Bathroom and kitchen remodeling
Decks and sunrooms
Porches
Accessibility options
Our experienced team of contractors takes pride in all projects. We are a composite deck builder that can create multi-level structures with ornate details. When you need it done right the first time, F&S Building Innovations is the porch builder to do the job. We have more than 30 years of experience in home remodeling, are a member of the Roanoke Home Builders Association and an A+ rated Business of the Better Business Bureau and were proudly named one of Qualified Remodeler's Top 500 Remodeler's of 2014.
Don't settle for just any composite deck builder or porch builder for projects in Lynchburg, Lexington, Salem, Vinton and nearby cities. Choose a contractor that has a reputation for excellence. Choose F&S Building Innovations. From our first free design consultation through a final inspection, we are determined to make your experience building with us a pleasant one. Contact us today. We are ready to discuss your project. We build smart and we build right!