Conservatory in Bedford, Salem, Roanoke, Vinton, Christiansburg & Neighboring Cities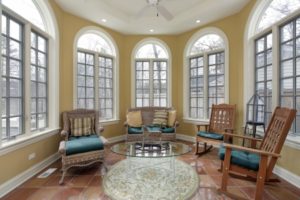 A conservatory is a structure or room that is made up of almost entirely windows for excellent viewing of the starry night sky. Because a conservatory also lets in the bright sunlight the daytime hours bring, you may hear someone refer to a conservatory as a solarium or sunroom. While each of these room types may differ slightly, the terms are often interchangeable to those seeking to construct a conservatory on their property.
F&S Building Innovations can help you determine the exact type of addition that will best suit your needs and lifestyle after learning more about your specific design preferences, what your new conservatory or solarium will most often be used for and other details pertinent to the design of your new space.
For over 30 years, we have been providing solariums and conservatories to homeowners throughout Virginia and beyond. We are the sunroom experts and can help you design the conservatory of your dreams.
By working with us, you will enjoy the following benefits:
Class A Contractors overseeing every conservatory or solarium construction project
Specialized skill set specific to the design and construction of sunrooms
A team of licensed general contractors who are able to renovation, remodel or construction any space in and around your home, including garages, patios, kitchen, sunrooms and more
Neat and tidy jobsites
Timely project completion
No-hassle design and build process
and More!
We are able to see you through every step of the conservatory or solarium build process, from initial consultation, designing and planning to material procurement, sub-contractor staffing, permit acquisition, construction, final walk-through and more. If you live in Bedford, Salem, Roanoke, Vinton, Christiansburg or the neighboring cities, contact us today to schedule a free design consultation. We look forward to showing you why more and more Virginia homeowners choose F&S Building Innovations for all of their sunroom and general contractor needs.