Enclosed Patio in Bedford, Salem, Roanoke, Vinton, Christiansburg & Neighboring Regions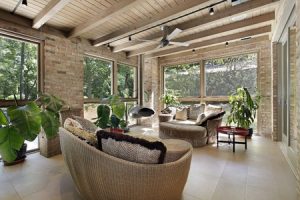 Here in the northeast of the United States, our climate includes warm summers and snowy winters, making it difficult to justify a traditional unenclosed outdoor space. If you are looking to add an enclosed outdoor space to your home, look no further than F & S Building Innovations. We are locally renowned as the area's top enclosed patio and sunroom addition contractors. Enclosed patios and sunrooms provide the ability to enjoy the outdoors, while helping limit weather-related concerns. Improved enjoyment, comfort, and property value are only some of the benefits to adding an enclosed addition to your home.
Once you contact F & S Building Innovations for your enclosed outdoor space or sunroom addition project, you will soon find yourself falling in love with a new space on your property. Our team of trusted contractors will get the job done on time, and we guarantee every project is completed to the highest of standards to avoid the need for future repairs due to poor construction.
An enclosed patio provides more benefits than creating an unenclosed outdoor space. Some of the benefits of adding an enclosed patio or sunroom addition are the following and more:
Varying levels of protection from the elements, such as snow and rain.
Increased square footage in your home allows for more functionality and can increase your home's value.
Jacuzzis and hot tubs are protected from debris and sun damage, resulting in less maintenance each month.
A new space for the family to spend time together outside.
F & S Building Innovations is here for all of your outdoor project needs, no matter the size of the project or the time required to get it done right the first time. When you are ready to begin your enclosed patio in Bedford, Salem, Roanoke, Vinton, Christiansburg or the neighboring regions, we will be ready to assist you. Contact us today to learn about how enclosed outdoor spaces are perfect for your home!