Kitchen Remodeling For Bedford, Roanoke, Salem, Vinton, Christiansburg, Lynchburg & Surrounding Areas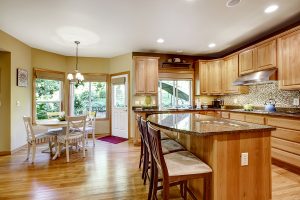 Deciding on a kitchen remodeling Bedford project is a significant decision. There is, of course, the expense to consider. Then there's the temporary inconvenience associated with a kitchen remodel. You then need to make sure you select the right kitchen contractor for the job. F&S Building Innovations can help you through every step of the way.
When it comes to costs, F&S Building Innovations will work with you on your budget. We can even offer some financing alternatives that may help you stretch your budget. Our team is also experts at helping our customers get the most out of their budgets without sacrificing quality or amenities.
There is no question a kitchen remodeling project, especially a significant one, will create some inconveniences. Rest assured that F&S is a kitchen contractor who knows how to minimize these inconveniences. We know how to work through projects, minimizing downtime. We also take care to keep dust and debris to a minimum. We focus on getting the job done the right way, the first time and on time.
When you select F&S Building Innovations as your kitchen contractor, you can rest assured our work is guaranteed. It may also help you to know that:
We are A+ Rated Members of the BBB
We are members of the Roanoke Regional HomeBuilders Association
We are an EPA Lead-Safe Certified Firm
We are a member of the U.S. Green Building Council
If you are considering a kitchen remodeling Bedford, Salem or Lynchburg, contact F&S Building Innovations today. Get a free initial design consultation by contacting or visiting our Roanoke, VA showroom. We are proud to serve the communities of Christiansburg, Vinton, Roanoke and the entire region. We look forward to assisting you.
See why so many people in Roanoke, Bedford, Vinton, Salem, Christiansburg, Lynchburg and nearby communities choose F & S Building Innovations for their kitchen remodeling. Contact us today to begin your kitchen design project!