Kitchen Remodeling in Roanoke, Salem, Lynchburg, Bedford, Lexington & Surrounding Regions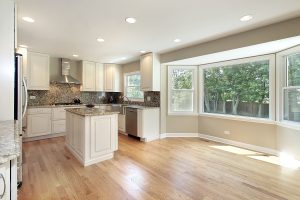 Countless numbers of home buyers from Christiansburg, Vinton, Cave Spring, Troutville and Smith Mountain have come to F&S Building Innovations for kitchen remodeling after purchasing a home. Often, they almost didn't buy the house because fell in love with everything about the house except for the fact that it needed a kitchen renovation. Don't pass on a house just because it needs a kitchen renovation. Chances are you'll never be as happy with a kitchen as you will be with one that you were involved with during the design and renovation process.
Why have so many people come to trust and rely on F&S Building Innovations for kitchen remodeling? F&S Building Innovations is a recognized leader in kitchen renovation projects for a vast assortment of reasons including:
Over 30 Years of Experience
A+ Better Business Bureau Rating
Class A General Contractor License
Listed in Top Qualified Remodeler of the Year
EPA Lead Safe Certification
25+ year member of Roanoke Regional Home Builders Association
As a Class A contractor, we are in the highest dollar limits category licensed to perform or manage construction, removal, repair or improvements. Because we are locally owned and operated, we enjoy projects that are big and small and are committed to making every one of our customers happy. We provide our customers with top quality products, excellent customer service, free design consultations, no-obligation quotes and more. Through our memberships and affiliations with organizations in the kitchen remodeling industry and our partnerships with the leading manufacturers of kitchen related products, we are always on top of the latest trends in kitchen design. Our designers will work on your renovation with you to create a design that will include modern trends yet still be in style for years to come.
We are confident that homeowners completing a kitchen remodeling project in Roanoke, Salem, Lynchburg, Bedford, Lexington and the surrounding regions will be delighted when they choose us for their upcoming renovation. Contact our F&S Building Innovations showroom today!