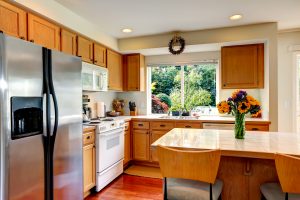 At F & S Building Innovations, we have built some of the most beautiful kitchens Christiansburg has ever seen.
At F & S Building Innovations, our kitchens are designed not only to add beauty, but to add convenience and value.
From amazing, premium quality countertops to rich looking cabinetry, we make sure every detail is taken care. We help you select the right faucets, hardware and conveniences to fit your style. We can add dramatic lighting to better show off your new kitchen.
Discover why homeowners who had their kitchens remodeled in Christiansburg are so treasured.
With over 30 years of remodeling experience F & S Building Innovations is a member of:
The Roanoke Regional Homebuilders Association
The Better Business Bureau
The U.S. Green Building Council
Plus we are an EPA Lead-Free Certified Firm. The same kitchens Christiansburg homeowners love can be created anywhere in the Roanoke area with the help of F & S Building Innovations. But we don't stop at kitchens. We can remodel bathrooms into spa-like spaces. We can improve accessibility with ramps, wider doorways, and handrails. We can build sunrooms and complete room additions. Our decks and patios are superior.
No matter what your next project is, compare with F & S Building Innovations. It starts with a free, design consultation.. No project is too big or too small for us.
Learn about the quality craftsmanship, attention to detail, and dependable service of F & S Building Innovations. Contact us today and be on your way to a new kitchen or other project soon.
See why so many area homeowners in Christianburg are discovering
F & S Building Innovations for their kitchens. Call Today at 800 203 2678