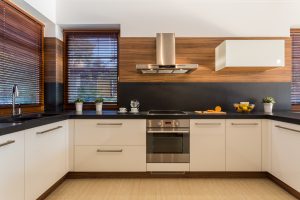 Considering getting a new kitchen in Roanoke?
At F & S Building Innovations, we remodel kitchens in Roanoke to improve their beauty, efficiency, and the value of your home. That is exactly why when you consider a contractor to take on this valuable role, you should choose someone with the reputation of F & S Building Innovations. We have an A+ rating from the Better Business Bureau. We are members of the Roanoke Regional Home Builders Association. We are environmentally conscious as evidenced by our association with the U.S. Green Building Council and our Certification as being a Lead-Free Firm by the EPA.
The kitchens Roanoke area homeowners are getting from F & S Building Innovations can help improve value to their home.
What are included in the kitchens Roanoke wants most?
Efficient use of space.
Convenience.
Modern appliances.
Stunning countertops.
We invite you to contact F & S Building Innovations for quality work you can trust. We even offer a free design consultation to help show you what we can do. Contact us and let's create one of the best Roanoke kitchens that your friends and family will love.
See why so many area homeowners in Roanoke are discovering F & S Building Innovations for their kitchens. Call Today at 800 203 2678