Sun Room for Those in Roanoke, Salem, Lynchburg, Bedford, Lexington & Neighboring Regions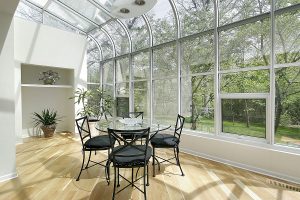 For those of you that live in in Christianburg, Vinton, Cave Spring, Troutville, Smith Mountain Lake and neighboring areas who enjoy the beauty of the outdoors with all the comforts of custom indoor living spaces, a sun room is the perfect solution for you and your family. At F&S Building Innovations, our trusted builders can help you design your indoor space or embark on outdoor deck construction.
The benefits of having a sun room in your home are seemingly endless. When the room captures the light and warmth of the sun, you and your family benefit from the stress-relieving, mood-enhancing and energy-saving benefits of natural sunlight. From the many health benefits of fresh air and natural sunlight to the financial energy savings, this sunny addition can seriously pay off.
At F&S Building Innovations, we understand how critical communal and outdoor spaces are to growing families. Sun rooms and outdoor decks help to create family memories that will last a lifetime. That's why we aim to provide our customers with quality construction that will last as long as their cherished memories.
Whether you want a sun room that allows you to comfortably enjoy your beautiful outdoor landscaping, luxurious pool or complement a new deck construction, this home improvement addition will allow you to enjoy your favorite views in the rain, snow, wind or shine. Regardless of the weather, your beautiful custom home addition can help you enjoy affordable extra space.
When it comes to sun room, anything goes. Use it as a:
Breakfast Nook
Family Room
Entertainment Room
Play Area
Home Office
No matter how you plan put your dream sun room to use, our experts at F&S Building Innovations can help you design and construct the ideal space to suit you and your family's needs. We proudly serve Roanoke, Salem, Lynchburg, Bedford, Lexington and surrounding communities. Contact us today to schedule your free consultation for your next addition or deck construction project.