Walk in Bathtub in Roanoke, Salem, Lynchburg, Bedford, Lexington & Surrounding Regions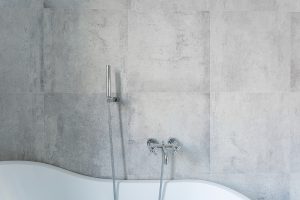 Searching for a construction company to complete your bathroom update project? Whether you're looking to turn an unused space in your home into a brand new powder room or want to install a walk in bathtub to your existing master bathroom, the professionals at F&S Building will help make your bathroom renovations a breeze.
A walk in tub offers safe, accessible use with style. Updating an existing master bath to include a walk in bathtub is a great solution for those wanting to make their home ADA compliant. While form meets function, you'll be able to choose from the industry's leading brands to suit the design and flow of any existing bathroom.
Choosing a walk in tub for your specific bathing needs will generally assist in the selection process. We typically recommend larger sized walk in tubs for those replacing existing tubs in larger bathrooms. For their bathroom renovations, we advise more narrow tubs for those with slightly smaller master baths or full bathrooms. Whether you're looking for a specific type of bath for its width or length, it's important to keep in mind the many features and therapeutic benefits that you can enjoy after your bathroom renovations are complete such as:
Adjustable massage strength
Deep soaking depth
Soothing LED lighting systems
Built-In grab bars
No matter how you choose to update your bath, you can rest assured that your bathroom remodel will be as simple as possible for you and your family. While you'll be a major player throughout the process, from design decisions, progress updates and final inspection, you can spare yourself the headache of stressing over every last design, construction, plumbing and clean-up coordination detail.
Let our trusted bathroom contractors and crew handle your powder room construction, walk in bathtub installation or full bath remodels. With over 30 years of experience, our satisfied customers throughout Roanoke, Salem, Lynchburg, Bedford, Lexington and surrounding areas can attest that we truly can handle any custom home improvement and bathroom remodel project. Contact us today to get started with a free estimate.